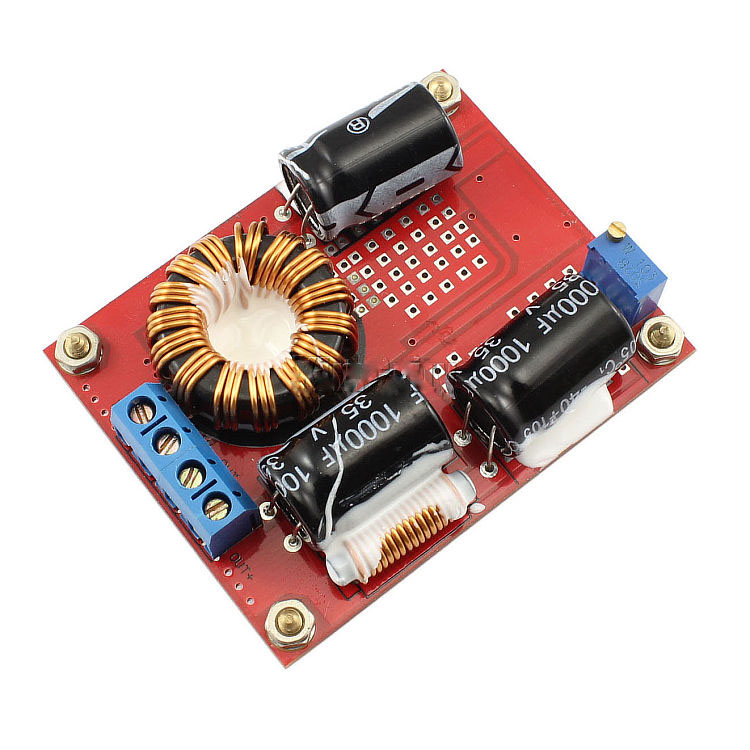 DC-DC Converter 12V to 24V 3A-4A Step Up Module QS-1224CBDN-72W
---
Brand: QSKJ
Model: QS-1224CBDN-72W

Parameters:
Module Properties: Non-isolated step-up module (BOOST)

Input Voltage:8-32V(Input Voltage must lower than output voltage)  

Output Voltage:12-35V(Adjustable)

Output current:

Input 12V Output 24V current 3A,higher than 3A need to add heat sink.

Input 12V output 19V Max current 5A,higher than 4A need to add heat sink.

Note,The above data test in air,Temperature 20°c.When you use,influenced by the environment, please make sure that the power tube surface's temperature is less than 80°c.

Output Power:Natural cooling 72W(Max), Strengthen cooling 100W(Max)

Conversion Efficiency:12V to 24V 3A efficiency is 92%,12V to 19V 3A efficiency is 93%

Output Ripple:less than 50mV

Broadband:20M

Operating Temperature:Industrial(-40°c to +80°c) (When temperature higher than 40°c,Please reduce power for use or add heat sink)

Full load temperature rise:45°c

No-load current:Typical 30mA

Load regulation:±0.5%

Voltage Regulation:±0.5%

Dynamic response speed:5% 200uS

Short-circuit protection:None.(Please add fuse or protection circuit at the input port.)

Input Reverse Polarity Protection:None.Please Series diode at the input port

Wiring:No need Welding,with terminal.

Size:65(L)*47(W)*23.5(H)mm
Note: 
12V Wire length less than 1M, the wire greater than 1.5 square meters.If the wire length longer than 1M,please use bigger wire.

When working in the following condition,High powr, high temperature, or with shell, should add fan, and make sure the module's heat sink temperature less than 80°c.

Input can not be reversed,Output can not be short-circuited.

12V battery output voltage must higher than 10.5V. Lithium battery(single 3.7V) series connection for use,the output voltage must higher than 2.7V.

IN+: Positive input, IN-: Negative input.OUT+:Positive output,OUT-:Negative output.
Applications:
DIY a output adjustable power supply.

DIY a laptop power supply.

Boost charger.

Power supply for your electronic equipment