DC-DC Power Supply 8-30V to 2-16V Auto Boost Buck Converter CC CV Charger QS-1212CCBA-80W
---
Brand: QSKJ
Model: QS-1212CCBA-80W
Product Description:
This is a high performance DC to DC Converter (Auto Boost / Buck )with wide range input from 8-30 volts and variable output from 2-16 volts.

Powerful output up to 80 Watts and max. 6 Amps. It can be maintained constant output regularly no matter unstable input voltage.
Parameters:
Input voltage: 8-30V

Output Voltage: 2-16V (Auto boost & buck, adjustable)

Maximum Power: 80Watts

Output current: 0.5-6A (Constant current, adjustable)

Conversion efficiency: Up to 94% (O/P voltage higher, the higher the efficiency)

Standby current: 45mA

Input reverse protection: Yes

Operating temperature: Industrial grade (-40 ℃ to +85 ℃) (output power 10W or less)

Soft Start time: 500ms

Full load temperature rise: 40 ℃

Load regulation: ± 2%

Voltage regulation: ± 0.5%

Dynamic response speed: 5% 200uS

Short Circuit Protection: Yes, Output current limit protection

Input voltage protection: 7.7V

Over Input Protection: Yes, limit up to 36v

Operating indicator: Yes, Green > Normal; Red > the work is extremely or protection

Input Reverse Protection: Yes

Output Ripple: 20mV, 20M bandwidth

Installation method:  Fixture with 3mm screw, holes distance is 82mm

Setting: Pre-set 12V 2.5A (clockwise CC to increase current)

Dimension: 72 (L) * 42 (W) * 23 (H) mm (Include wire connectors)

Module Properties: Non-isolated Auto step-up/down module (Boost / Buck with constant current / constant voltage)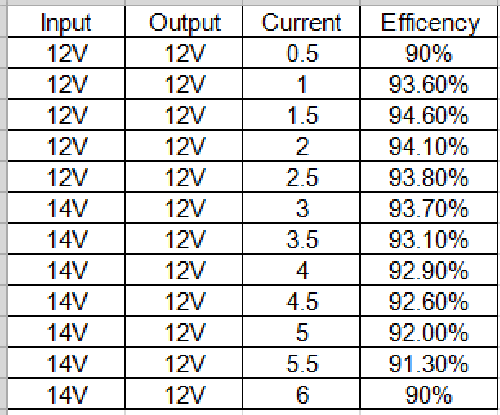 Application:
DIY DC power supply

High-power LED constant current driver

Primary power for system

MP3, MP4, Mobile and other devices

Battery DC converter

Lithium battery charger

Solar panels and wind turbines.
Typical Application:
Using for LED constant current driver:

Make sure operating current and Max operating Voltage of the LED you need to drive.

Adjust the constant voltage potentiometer to make sure the output Voltage is up to LED Max operating Voltage.

Use the multi meter in 10A current scale to measure output short-circuit current and adjust the current potentiometer to make sure the output current to the expected LED operating current.

Connect LED then test again with above sequent (1,2,3,4 steps to connect the power module input and output load does not take LED.)
Using for Battery:
Make sure of the voltage and current of the battery you need to charge.

Adjust the constant voltage potentiometer to make the output voltage same to the charge voltage

Use the multi-meter in 10A current scale to measure output short-circuit current, and adjust the current potentiometer to make sure the output current to the expected charging current value.

Charge transfer lamp current default value is 0.1 times of the charging current(constant current value)

For lamp current adjustment, please turn potentiometer adjustment;

Connect battery and trying charge up. (1,2,3,4 steps to connect the power module input and output load does not take batteries.)