Mini DC-DC Buck Step Down Module 4-24V 12V/24V to 5V 3A Power Module QS-1205CME-3A
---
Brand: QSKJ
Model: QS-1205CME-3A
Two Types of Inductors, Same price, same quality. If not specified, we will ship randomly.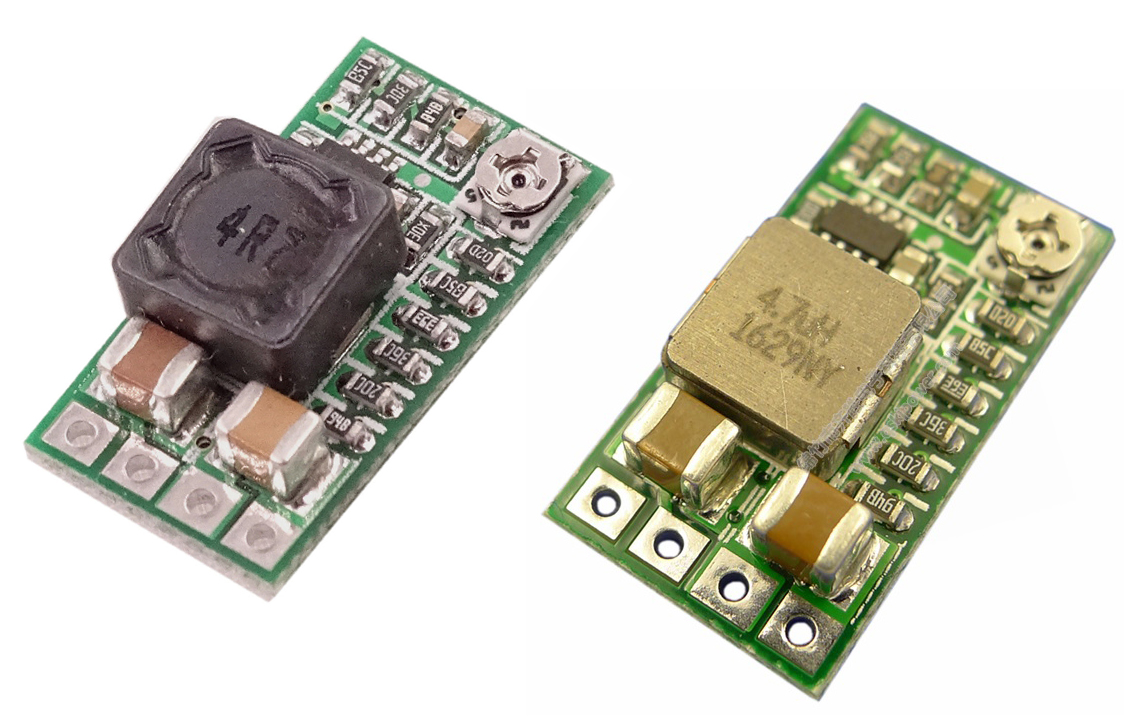 Features:
With a new original US chip, the output current is up to 3A, and the long-term operation is 2.1A. Output can be set to adjustable voltage and fixed voltage.

With a new solution design, the circuit design does not require electrolytic capacitors and tantalum capacitors (electrolytic capacitors have a short lifetime and the tantalum capacitors are in danger of explosion).

The new scheme adopts synchronous rectification, and the circuit conversion efficiency is very high. When the 6.5V to 5V 0.7A, the efficiency is as high as 97.5%, and when 12V turns 5V 1A, it also reaches 94%.

High current shielding inductors and ultra-low internal resistance maximize conversion efficiency. Reduce heat.

Mini, 20 (L) * 11 (W) * 5 (H) mm. Ultra-low static current, static current 0.85 mA. Connecting to car batteries without switching, can be on the cigarette lighter line, or on the ACC power line.
Parameters:
Input Voltage: DC 4.5-24V
Conversion Efficiency: 97.5% (highest) (6.5V to 5V, 0.7A)
Switch Frequency: 500KHz
Output Ripple: 20mV(12V to 5V, 3A)  20M width
Output Over-voltage Protection: no
Temperature rising range at full load: 40℃
Static Current: 0.85mA
Voltage Adjustment Rate: ±0.5%
Dynamic Response Speed: 5% 200uS
Output Short-circuit Protection: yes, please don't keep making it short-circuit.
Output Reverse Connection Protection: no
Wiring Method: soldering
Input Method: soldering
Output Method: soldering or pins
Welding Hole Spacing: 2.54mm
Operating Temperature: -40℃ ~ +85℃(Industrial class) (The higher the operation temperature is, the smaller the output power is)
Output Voltage: Integrated adjustable and fixed output (Adjustable range is 0.8-17V, fixed output are 1.8V, 2.5V, 3.3V, 5V, 9V, 12V that can be chosen on the back side)
Output Current: 3A max (please enhance cooling work when it is full load); When real tested input 12V and output is 1.5A, no need to add special system.
Enable Function Control: yes, Low electric level will stop working when high electric level is working. High electric level is 2-5V, low electric level is 0V or so.