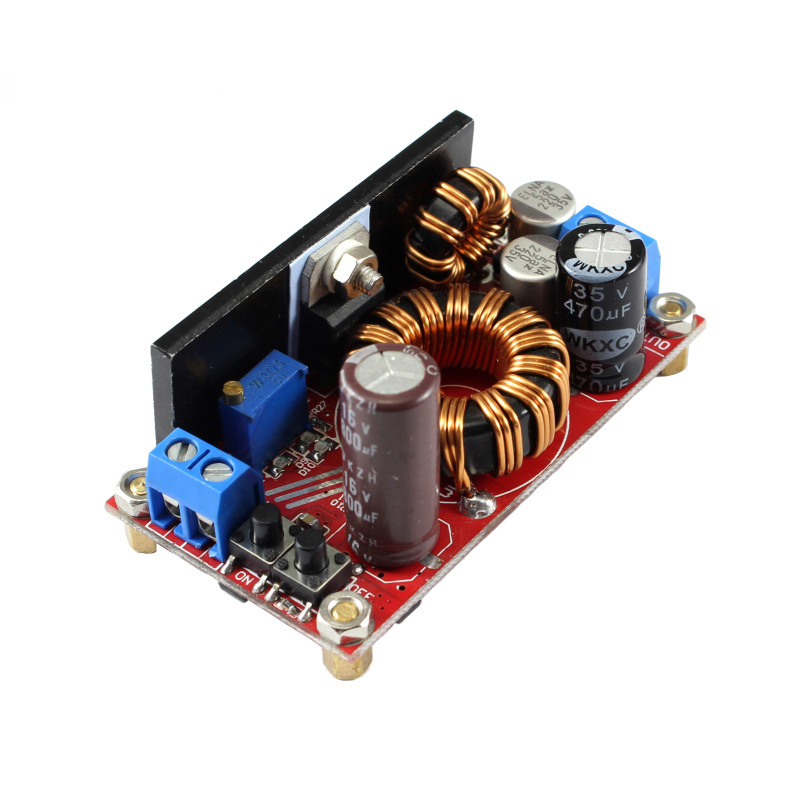 DC-DC Converter 100W 12V to 20V Step Up Power Supply Module QS-1220-100W
---
Brand: QSKJ
Model:   QS-1220-100W
Parameters:
Module Properties: Non-isolated step-up module(BOOST)

Input Voltage:9-16V

Output Voltage:10-32V(adjustable)  

Output Power: Natural cooling 100W (MAX), 120W(<1 minute)

Conversion efficiency:95%(input 16V output 19V 2.5A test,for reference only)

Switch frequency:100KHz

Output Ripple:25mV(MAX)

Bandwidth:20M

Operating Temperature: Industrial (-40° C  to +85° C ) (85° C  output power within 40W)

Full load temperature rise: 40° C

No-load current: 20mA typical

The Current after turn off: 1mA typical(if not calculate LED power,current is 0A)

Load regulation:±0.5%

Voltage regulation: ±0.5%

Dynamic response speed: 5% 200uS

Short circuit protection:Yes.Can auto turn off.(after output short circuit,please make sure that the output is not short circuit before turn on),The short circuit protection is a remedy measure for wrong operation, Please do not deliberately short-circuited.

Input voltage over warning: When input voltage over than 16.5V,red LED is light.(input voltage can not higher than 18V)

Input Reverse Polarity Protection: wrong input voltage connection red LED will turn light,right input connection the blue LED is light.

Switching method: remark "ON" is turn on, the other one is turn off.(when output no-load shutdown,please press turn off key until blue LED is turn off light,it is a few seconds)

Wiring:No welding, with connection ports.

Size:65(L)*35(W)*23.5(H) mm
Applications:
DIY an output adjustable vehicle power supply,connect the 12V input, and output could be 10-32V(adjustable by yourself), However, the output voltage can not be less than the input voltage.

DIY a Car laptop power supply.connected to 12V power supply, adjust the output voltage to the value that your notebook need.

Boost charger. You can use the 12V power supply to charge battery higher than 12V, for example, 24V battery.

Power supply for your electronic equipment.